Kalle Ohlson interview – part III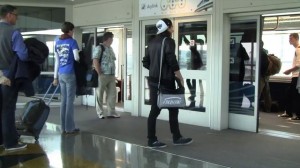 In our third and final interview part, we wanted to know if there are any special plans of Kalle's, for his future snowboarding career he might thinks about and if he watched the World Championships. Overall Kalle doesn't give much about parts or people in particular, as long as the video sections come with legit snowboarding and the people he rides with are same stoked about going to shred as he is. We've been told that Kalle has got some strong foot on the gas pedal, but he confesses and tells us the whole story later on. Hopefully he didn't get caught afterwards on his way down to Mayrhofen to the Wängl Tängl, which was his next stop after our  interview.
In case you've missed other parts of this interview we still got here for you the opener part and part II of it.
Kalle rides for Artec, Oxbow, Adidas eyewear, Vans and Union.